On campus program
Leading Digital Business Transformation
Transformation never stops. Accelerate change with the power of digital.
On campus program
Leading Digital Business Transformation
Transformation never stops. Accelerate change with the power of digital.
Location Lausanne
Length 5 days
Fee CHF 10,900
Next program starts 4 December 2023
Accelerate change with the power of digital
Your transformation never stops. Yet data shows that the complexity of leading digital transformation results in an 87% rate of failure. So how do you ensure success for your own digital journey? Leading Digital Business Transformation provides the solution.
Designed to simplify the complexity of leading a digital transformation, the program focuses on all your key must-haves to deliver digitally-driven change. You will dive into the newest trends, disruptions, business models, threats and opportunities, informed by the very latest research from IMD's Global Center for Digital Business Transformation. You will learn about the importance of having an AI-resilient infrastructure, along with the best technologies, processes and culture to foster success. You will be inspired by case studies of transforming companies (legacy and digital natives) to show you where your potential obstacles lie and what your business needs to effectively grow in the future.
With guidance from expert faculty and peer leaders, you will map all these insights onto your unique situation to build a custom roadmap that enables you to return to your organization with a practical plan and the confidence to drive the evolution of your digital business transformation.
Identify key success factors for transformation
Identify all key factors for successful transformation to accelerate your own evolving digital journey.
Unlock the power of AI
Understand how the rapid rise of technologies such as Artificial Intelligence (AI) and new business models are radically changing dynamics across industries.
Get inspired by latest cases
See into the mindsets of digital disruptors and transforming legacy companies to identify digital opportunities and inspire fresh insights.
Create your unique roadmap for success
Drive digitization across your organizational value chain while preserving your core business and competing in new markets.
Join a global community
Become part of a community of digital transformation professionals, connecting with your peers during and after the program to share learnings and accelerate change.
You and your class
You are looking to embed digital at the center of your organization and you need tools, frameworks, language, and capabilities to drive change.
Join a diverse group of like-minded peers from different industries, cultures, and nationalities and who face the same digital-related challenges.
The typical participant profile includes: business leader, senior manager or entrepreneur in charge of developing or implementing a digital business transformation. You may be in marketing, operations, IT, strategy, HR, or general management.
2022 class profile (average data)
What participants say about this program
Juan Manuel Santiago Mendez
CEO, Mercedes-Benz Parts Logistics UK; Head of Logistics, Cluster UK & SA
A mind blowing experience
It's an explosion of knowledge. Prof. Michael Wade shares so much up-to date-knowledge on everything happening in digital transformation. And after sessions you continue to exchange with participants with different backgrounds and industries. It's mind blowing.
Yasser Joharji
CEO, Nahdi Medical,
Saudi Arabia
Real learning for impact
It's real learning for impact at IMD! You learn from examples of different businesses, in different circumstances from around the world. You get eye-opening insights and a practical structure for the future.
Anna Michałowska
Global Digital Director, Selena, Poland
Very interactive and engaging
You really understand digital transformation after this program. It's very interactive, engaging and professors are amazing. I have built a diverse network of advanced people I can consult with.
Eduardo Chavez
Digital Transformation Lead (Customer Education), Medtronic, Switzerland
Excellent in every way
Excellent in every way, from faculty, learner experience support and location. If you're looking to elevate your understanding of digital business transformation, this is the program for you.
Somil Sharma
Director – Key accounts, Wooqer, India
Solid insight into digital transformation
Attending Leading Digital Business Transformation gave me solid insight into digital transformation. We learned how it works in the real world, by exploring case studies. The program showcased how technology can create disruptive innovations in business and can be such a great enabler of change.
Maria Klaestrup Jensen
Head of Process & Business Design, LB Forsikring, Denmark
Highly engaging
You must want it and thereby be willing to engage, share, discuss and prepare. If you do so the ROI is huge thanks to a great program, highly engaged tutors and attendees.
Your learning journey: build the right digital transformation journey for your company
The program takes you on an exciting exploration of the dynamics of digital disruption and transformation, always with an aim to improving your organizational performance. You will discover the implications of the latest digital tools, technologies, and business models for your marketing, sales, strategy, operations, and leadership – from planning right through to execution.
The transformation framework
During the program, you'll be exposed to a unique framework called the "Digital Transformation Orchestra", developed by IMD Global Center for Digital
Business Transformation.
The framework is designed to break down the organizational value chain into different elements. Each of these elements, Go-to-market, Engagement, Operations and Organization, needs to be addressed, in isolation and in concert, through a typical digital transformation journey.
Your core focus throughout the week and main deliverable when you leave is the development of a strategic roadmap for digital transformation of your organization.
You'll explore how to:
Develop and execute a digital strategy.
Protect yourself against disruption.
Build powerful digital platforms.
Become a digital disruptor.
Improve your agility.
What does an agile organization look like? We discuss a set of capabilities that distinguish agile organizations from the rest.
Agenda
The agenda is organized with sessions over 5 days, including interactive discussions, case studies from both traditional and disruptive organizations, peer sharing, guest speakers, and cutting-edge content.
Day 1: Digital business fundamentals
• The digital business transformation journey
• Digitization vs digital transformation
• The dynamics of digital disruption
• The quest for digital business agility
Day 2: Digital strategy, execution, and cybersecurity
• Digital transformation orchestra: your digital execution plan
• Platform strategy
• Cybersecurity: prevention and response
Day 3: Governance, culture and AI
• Digital culture
• Digital governance
• The fundamentals of AI
• AI in business and society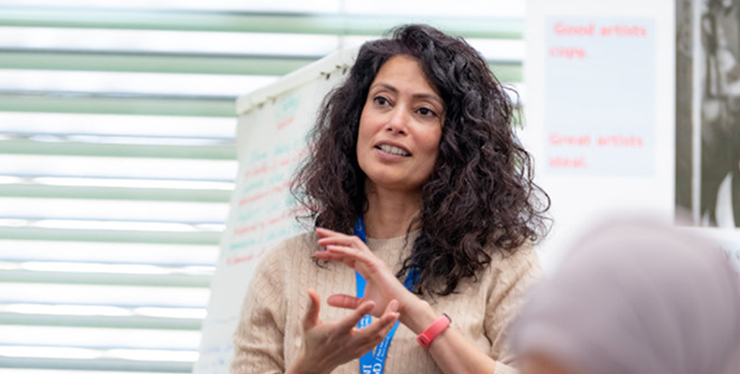 Day 4: The future, corporate responsibility, AI resilience
• The future of digital transformation
• Digital ethics & corporate digital responsibility
• Digital sustainability
• Building AI resilience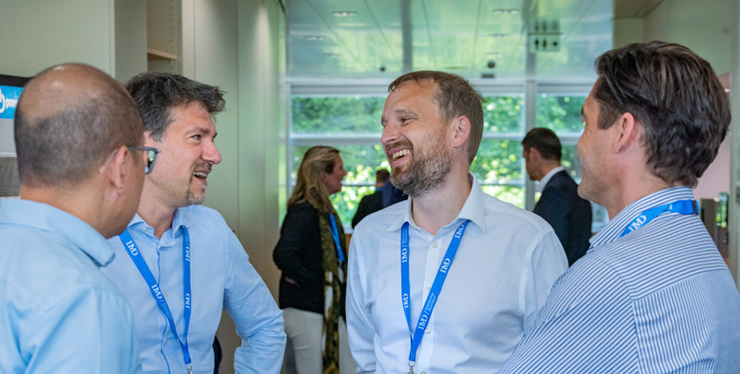 Day 5: Managing disruption
• Digital strategy: fighting against disruption
• Finalizing your digital transformation roadmap
Next start & fee
Length: 5 days at IMD campus
Michael Wade's publications
One step closer to joining IMD alumni network
Successful completion of this program takes you one step closer to joining IMD's powerful alumni network.
250+ events per year
Communities
50+ clubs worldwide
Resources