Video
How not to be a hostage to COVID-19: Episode 2
Being a secure base in times of threat and uncertainty
5 min.
April 2020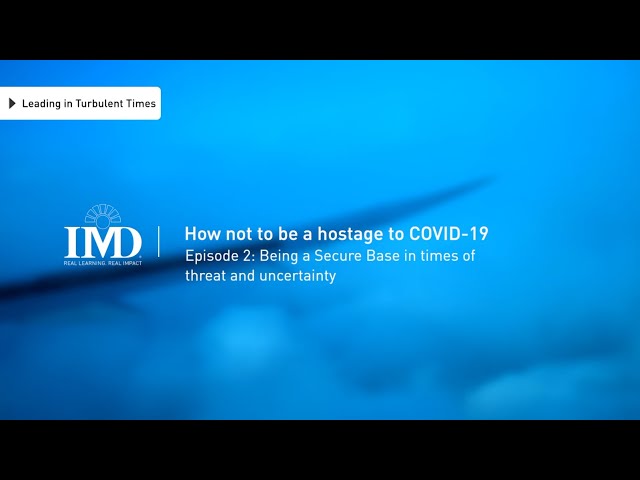 This is an episode in the video series How not to be a hostage to COVID-19. Psychologist George Kohlrieser, Professor of Leadership and Organizational Behaviour, IMD, brings his long experience as a hostage negotiator to the table. He provides practical advice for getting past fear and worry, helping us to retake a position of power and refusing to become a psychological hostage to the COVID-19 crisis.
In episode two, Being a Secure Base in times of threat and uncertainty, Professor Kohlrieser explains the concept of Secure Base Leadership. The Secure Base's role is to shut down the brain's tendency to look for danger and keep amygdala stimulation to a safe minimum.
A Secure Base's second role is to inspire—during these times, that implies virtual leadership. This can help you change your emotions and move to a positive mindset, which will help both you and others focus on the ultimate goal.
Professor Kohlrieser gives a personal example of this type of leadership technique that occurred during a turbulent plane ride. When a fellow passenger panicked and started screaming, he was able to show caring by holding her hand. That gesture, and the language Kohlrieser used during the event, helped to alleviate the fearful passenger's worry and keep her calm.
To view all videos, please visit our Leading in Turbulent Times page here.
Looking for something specific?
IMD's faculty and research teams publish articles, case studies, books and reports on a wide range of topics
The new CEO's guide to crisis management
Summary
As baby-boomer CEOs retire, a new wave of leaders is taking over. These new CEOs are full of fresh ideas and perspectives. However, many inevitably...
Retaining entrepreneurial spirit during hypergrowth at sportswear brand On (B)
Summary
When one of On's co-founders stepped into the elevator at the brand new On Labs headquarters in Zurich, a fellow co-worker asked whether it was als...
Copyright owner
IMD Copyright
Industry
Consumer Goods, Sportswear
Available Languages
English
Navigating organizational change: A bitesize framework for leaders 
Summary
Keep the "change hamburger" in mind as you steer through your transformation journey.
Decisions about the future of AI shouldn't be made by "dark personalities"
Summary
Traits such as overconfidence and narcissism, which may lead tech leaders to make bold decisions and take risks in the pursuit of growth, are dange...
Big shoes to fill: How to succeed a brilliant leader
Summary
Executives winning promotion must navigate their transition with a balance of humility, respect for legacy, and a vision for the future.
Use GenAI to uncover new insights into your competitors
Summary
Companies have a growing problem of information overload regarding markets and competitors, which often prevents the C-suite from making the best d...
Fostering psychological safety in teams
Summary
This note highlights the pivotal role of psychological safety in fostering a culture of flexibility and innovation within organizations, especially...
Copyright owner
IMD Copyright
Available Languages
English
Understanding and overcoming resistance to change
Summary
In today's turbulent business landscape, organizational change is imperative for survival and success. However, research reveals that 75% of transf...
Copyright owner
IMD Copyright
Available Languages
English
The power and practice of organizational judo
Summary
This note summarizes how Judo's "gentle way" offers insights for mastering organizational politics. The Japanese martial art of Judo combines physi...
Copyright owner
IMD Copyright
Available Languages
English
Retaining entrepreneurial spirit during hypergrowth at sportswear brand On (A)
Summary
On Wednesday 15 September 2021, about 100 On team members were going to jog to the NYSE to mark the running shoe brand's first day as a publicly tr...
Copyright owner
IMD Copyright
Industry
Consumer Goods, Sportswear
Available Languages
English