Video
Collaborative financing for renewable energy in emerging markets
elea Webinar Series
September 2020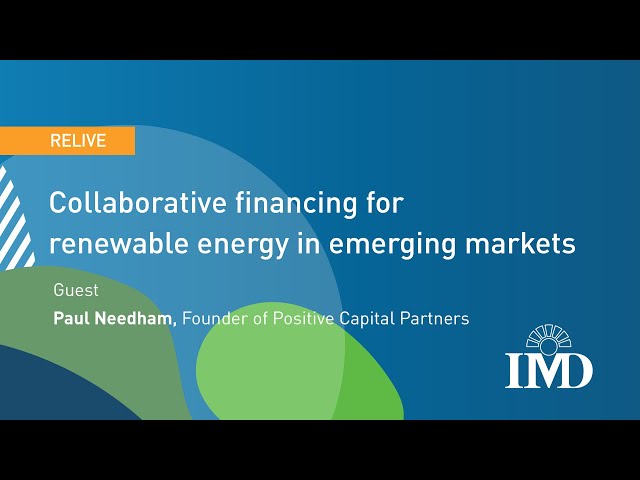 This webinar, led by Professor Vanina Farber,  elea  Chair of Social Innovation  and  Paul Needham, Co-Founder of Positive.Capital Partners,  appeared live on Wednesday,  September 30th  at  4pm  CEST.
How  might leading corporations achieve their sustainability goals while driving the energy transition in emerging markets? How might investments in distributed renewable energy help deliver essential energy for schools, hospitals and communities in underserved areas? How might we leverage proven market instruments and mechanisms to attract private capital and drive systemic change?
These questions  were answered in this webinar, hosted by Professor Vanina Farber, with her guest Paul Needham, Co-Founder of Positive.Capital Partners and former CEO and Chairman of Simpa Networks.
Companies, governments and investors are leading a new wave of investment into renewable energy projects through new instruments and partnerships, which are poised to unlock greater access to sustainable energy, Needham and Farber said.
A growing number of institutional investors now require climate action plans from companies, while changing legislation and consumer demand is increasing pressure on the corporate world to show leadership on climate change.
Farber said that, in response, "we are seeing a lot of companies actually committing to very specific targets – aiming to be carbon neutral and even carbon negative."
Corporates in competition on climate
"We are now seeing climate leadership coming from some of the most cash-rich companies the world has ever seen," Needham explained, citing the examples of Microsoft, Amazon and Google.
"They are competing for climate leadership, which is really exciting. One way in which leading corporates are taking direct action is in their procurement of renewable energy. Corporate purchases of renewable energy is accelerating, growing 42% year-over-year to 2019, with 19GW of new projects contracted."
RE100 is a membership platform of leading multi-national companies that have committed to power their global businesses with 100% renewable electricity. The 262 member companies, spanning all sectors including manufacturing, consumer good, finance, pharmaceuticals and technology, have combined energy demand of 281 TWh per year, enough to power a medium-sized country.
Needham explained that, in order to meet sustainability targets, companies are sourcing power through power purchase agreements, investing directly in projects, or committing to purchase environmental attributes in advance from wind and solar projects in development.
In this way, these advance corporate commitments are improving project economics, providing income assurance and de-risking projects so they can raise the upfront capital needed to get developed. Renewable Energy Certificates (RECs) are widely used market instruments that allow corporate purchasers of renewable energy to make third-party verifiable claims about the sources of their electricity.
"Great companies want to make sure that they give more than they take, that they generate more than they consume, and that they are purchasing the cleanest electricity they can find on the market, wherever it is generated." Needham said.
Channelling corporate demand to power off-grid renewable projects
"The world has made slow progress in delivering on expanding access to sustainable energy in emerging markets. A decade ago, over 1.2 billion people lacked access to reliable electricity. Today that figure is down to about 800 billion. At our current rate of progress, there will still be 620 million energy-poor in 2030. That's not good enough", said Needham.
"So how might we incentivize more private sector investment to accelerate the energy transition in emerging markets? How can distributed renewable energy projects be de-risked?" Farber asked.
Needham said one of the big challenges for many off-grid energy projects, similar to the successful venture he co-founded in India – Simpa Networks, was the mobilisation of finance into the sector in order to support the growth and upkeep of power solutions.
"If you are providing 'last mile' services […] you are dealing with low income customers whose incomes are variable and unpredictable," he said. "In that context, the margins are slim and somewhat unpredictable." It's also difficult to package small-scale energy production into sizeable lots that are attractive to large multinationals.
"There are so many undiscovered opportunities to invest in renewable energy in emerging markets," said Needham.
Part of the problem is that, in order to make credible commitments and announcements about progress towards their climate targets, companies rely on third-party verification to trace and certify the renewable energy production.
While there is a system in place to certify clean energy – Renewable Energy Certificates (RECs) – which corporates can purchase to offset their dirty energy use, this structure does not typically reach many emerging market projects.
"There is no third-party system of tracking in place," Needham said. "That mechanism – that additional revenue stream is not currently available to off-grid energy companies, so they are leaving money on the table because there hasn't been this system in place."
Positive.Capital Partners has partnered with South Pole to create the Task Force for Distributed Renewable Energy Certification. The Task Force is a private sector led initiative to create new market instruments that can help drive corporate investments into distributed renewable energy in emerging markets. With support from the Shell Foundation, the International Finance Corporation, the EnAccess Foundation and UNDP, this multi-stakeholder coalition is introducing a new market instrument – the D-REC – that will provide a foundation for a wide range of commercial models.
Partnerships can drive systemic change
"We realised that what was required is a market transformation – something that no single company or organization could do on their own," he said. "We've been successful because from the outset we've engaged major corporations, leading standards organizations, technology providers, financial intermediaries, off-grid energy developers and industry associations."
He called for the creation of "a new ecosystem" that would connect the renewable energy procurement industry and the distributed renewable energy sector in emerging markets that have "both been thriving, but they've been speaking different languages."
Farber concluded that building partnerships and forging new ecosystems was key to driving systemic change and required innovative tools that can unblock avenues for investment.
"How we build and change mindsets towards this ecosystem building, I think social innovation and blended finance provide a very nice platform to start the conversation," she said.
"Bridging the gap between social enterprises that provide sustainable, decentralised energy solutions and multinational corporations that want to offset their carbon footprint is reflective of exactly the type of social innovation that we at the elea Center for Social Innovation want to accelerate in the critical years to come."
To find out more about upcoming webinars from the elea Center for Social Innovation, please visit the Center's page  here.