Video
High Performance Boards Conversation Series
Explore best-practice governance with Professor Didier Cossin and guests .
10 min.
June 2020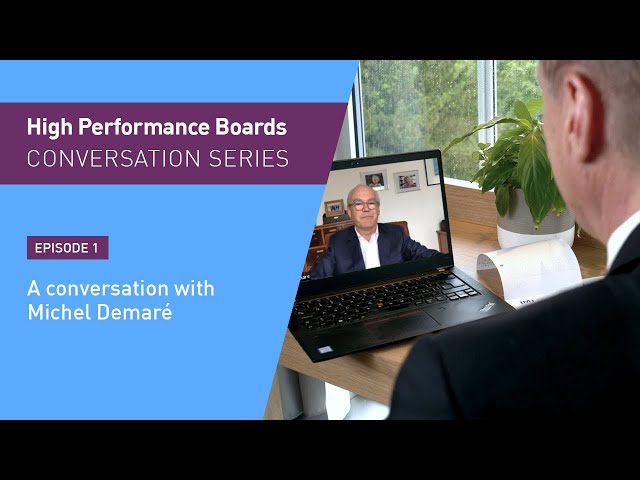 This stimulating new series with Didier Cossin, Professor of Governance and Founder and Director of the IMD Global Board Center, hosts well-known board members and chairmen/chairwomen to discuss best governance practices. Inspired by Professor Cossin's recent book of the same title, High performance boards delves into topics such as accountability, responsibility and stewardship, amongst others.
With decades of influential tips, advice and examples from both Professor Cossin and those of his expert guests, this series is essential viewing for today's board members, senior managers, investors, lawyers and students of governance.
In the first episode, Chairman of the IMD Foundation and Supervisory Board, Board Member of Vodafone Group PLC, Astra Zeneca PLC and Deputy Chairman of Louis-Dreyfus Company Holdings B.V. Michel Demaré examines how the role of the board is changing due to the COVID-19 crisis. He urges boards to consider the bigger picture concerning current challenges, including the health and well-being of employees in addition to bottom lines.
Demaré answers the question of what makes a great board member and emphasizes that stakeholder communications should be prepared well in advance.
Professor Cossin and Demaré finish the conversation by discussing sustainability and stewardship, and how it relates to boards today. Demaré provides his advice for addressing diversity and social inequality, pointing out the COVID-19 crisis has only intensified certain injustices.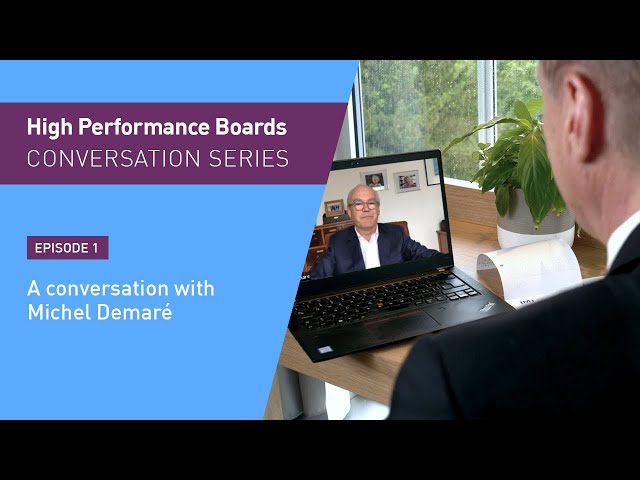 The second episode of the series, "Board lessons from humanitarian governance", features President of the International Committee of the Red Cross Peter Maurer. Maurer, one of Switzerland's top diplomats, explains specific challenges that concern humanitarian organizations like his own.
The Red Cross is arguably the largest and one of the most sophisticated humanitarian organizations in terms of governance – it enters major conflict zones in difficult situations. All businesses that are entangled in complex geopolitics can learn from how the ICRC is able to maintain its neutrality while maintaining purpose.
Cossin and Maurer explore the topic of diversity and inclusion, specifically the unique role of the ICRC and its governance structure. Alongside purpose and geopolitics, they agree that diversity is at the heart of good governance for all boards.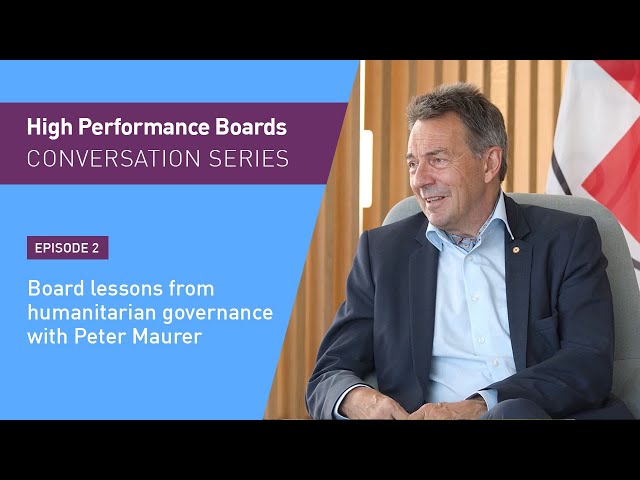 In the third episode, "Top board priorities for organizational health", IMD Professor of Governance Didier Cossin explores the topic of stewardship and how organizations can create true value with Chairman of Nestlé, Vice-Chairman of L'Oréal and Board Member of Roche Paul Bulcke.
With Nestlé's "Creating shared value" program, the world's largest food company has put stakeholders and society firmly at the heart of its operations, Bulcke says. He believes a Nestlé trio of values – safety, activity and solidarity – has allowed the company to thrive despite the ups and downs of 2020.
Bulcke says boards can play a vital role in keeping companies healthy during the COVID-19 crisis and beyond if they follow certain steps, including favoring resilience and not only efficiency, fostering strong management and keeping priorities straight, amongst others.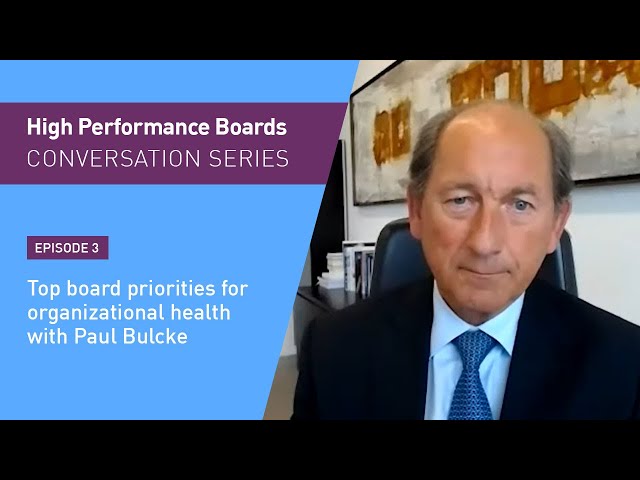 In episode four, "The principles of post-COVID stakeholder engagement in the pharmaceutical industry" Cossin engages in conversation with Roche Chairman of the Board Christoph Franz on the matter of different stakeholders and how the Board works together to engage with them.
"The more diverse you are the more you can have an educated look at the opportunities and risks that are developing in case of crisis," says Franz, underlining the importance of having invested trust across the Board prior to crisis so that you can benefit from it should crisis strike.
COVID has made us sit up and think, and remember why we are doing things, the two agree. In the case of Roche, the spotlight has fallen heavily on one of the main stakeholders – the patient. Franz answers questions on how the firm is working from the vantage point of the Board to have a patients' view.
Of course having one single view from the Board on any stakeholder is hard, and Franz explains how at Roche the existing culture in the company – "the alignment in the Board" –  was an asset they benefitted from. "You do not have to agree on everything but we are in a privileged position to master the crisis. So, we have to think how we can deliver this in the best way," Franz explains.
Cossin and Franz also discuss how Roche has balanced different shareholder and stakeholder concerns as it has drawn more heavily on its "diagnostic arm" during the COVID crisis, using its diagnostic tests and existing medicines to alleviate the burden of COVID-19.
A focus on profitability has to some degree given way to collaboration with competitors, in the name of speeding up and co-developing effective medicines. Also, there is more a sense of working in parallel, for instance with medical approval authorities, we learn.
The sharing of capabilities has never been so pronounced, Frank explains, speaking of his hope to create a lasting legacy that can be used in post-COVID times to benefit from innovative medicines and diagnostic tests faster to patients.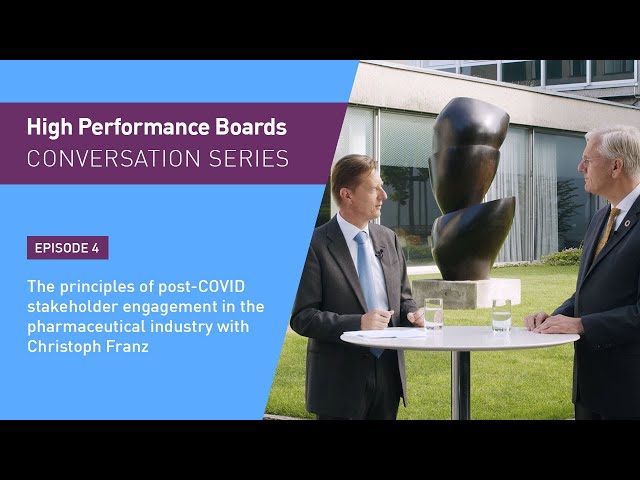 In the fifth session of the series, President of the International Olympic Committee (IOC) Thomas Bach discusses the challenges of sports governance – with regard to social and technological transformation – with Professor Cossin at the IOC's iconic headquarters in Lausanne, Switzerland.
Strengthening governance as a key driver of organizational decisions is the secret to keeping the flame of the Olympics alive, according to Bach. As the glue that holds the organization together, the IOC's Executive Board has implemented measures for accelerating decisions, increasing diversity and reducing doping.
The ability to make sound and swift decisions in such an unpredictable environment is made possible only by the flexibility of the IOC's governance team – and this agility is paramount to effective board decision-making.
"We live in a world where fragmentation and politicization are dramatic," says Professor Cossin, asking Bach how the Olympic Movement can fulfill its mission in a world filled with such tensions.
Bach explains that solidarity is in the DNA of international sports, leading the two to the topic of diversity and what exactly that means for the IOC as such a wide-reaching organization.
"We have to concentrate on our mission," says Bach, "and our mission is to unify the entire world through sports."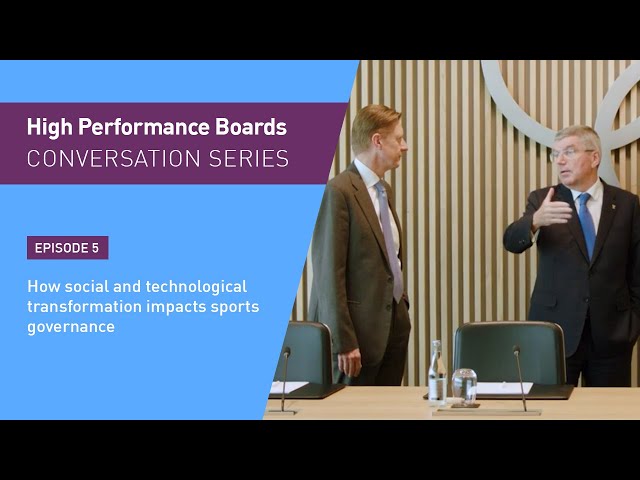 Looking for something specific?
IMD's faculty and research teams publish articles, case studies, books and reports on a wide range of topics
Retaining entrepreneurial spirit during hypergrowth at sportswear brand On (B)
Summary
When one of On's co-founders stepped into the elevator at the brand new On Labs headquarters in Zurich, a fellow co-worker asked whether it was also his first day at On. He was speechless. Less than a decade earlier, the 5 partners regularly went for lunch runs with some of the other 30 team members. And now in April 2023, On was a publicly listed multinational company with more than 1,800 employees, some of whom did not know or recognize the founders. This was disconcerting and the five partners reflected on the recent developments. The IPO in 2021 had been a great success and the company had been able to raise $746 million. The funds raised allowed On to further accelerate its growth, and the company had recently passed the CHF 1 billion revenue mark. During the pandemic, 500 new employees had joined the company. To accommodate the growing workforce, a new campus for product development, design and innovation – On Labs, with office space for 1,000 employees – was created in Zurich. After a period of exponential growth, and a number of employees being hired annually – some of them from On's close competitors – the company was facing new pressures and felt at a crossroads. Although the IPO had had a limited impact on the company culture so far, the partners wondered whether the continued dramatic growth would affect the company culture. Were they going to be able to retain their unique culture and keep it from being diluted, while continuing to grow to achieve their mission? The three founders had a unique opportunity to rethink their role and how they could best contribute to On's future success.
Copyright owner
IMD Copyright
Industry
Consumer Goods, Sportswear
Available Languages
English
Case Study
Entrepreneurship
Human Resources
Leadership
Organizational Behavior
Retaining entrepreneurial spirit during hypergrowth at sportswear brand On (A)
On Wednesday 15 September 2021, about 100 On team members were going to jog to the NYSE to mark the running shoe brand's first day as a publicly tr...
Use GenAI to uncover new insights into your competitors
Summary
Companies have a growing problem of information overload regarding markets and competitors, which often prevents the C-suite from making the best d...
Understanding and overcoming resistance to change
Summary
In today's turbulent business landscape, organizational change is imperative for survival and success. However, research reveals that 75% of transformations fall short of their objectives. The root causes of this failure are often human-centric, stemming from factors like fear of the unknown, loss of competence, identity, status, relationships, or purpose. To navigate these challenges, leaders should adopt seven fundamental change management principles. Clear communication, authentic engagement, fair processes, stakeholder support, training, rewiring the organization, and embodying the change are essential. Leaders play a pivotal role in addressing resistance and fostering a successful transformation. Understanding these barriers and principles is key to becoming an effective change leader.
Copyright owner
IMD Copyright
Available Languages
English
The power and practice of organizational judo
Summary
This note summarizes how Judo's "gentle way" offers insights for mastering organizational politics. The Japanese martial art of Judo combines physical skill with mental strength and ethics. Its core principles offer valuable lessons for navigating organizational politics. 1. Maximum Efficiency but Minimum Effort (Seiryoku Zenyo): Judo emphasizes using minimal physical, emotional and mental energy for optimal results. Within organizations, this suggests focusing on high-impact areas, judiciously using political capital and avoiding wasteful conflicts. 2. Flexibility (Ju No Ri): Judo teaches that flexibility in strategy and mindset, illustrated by the willow tree metaphor, is crucial. Organizationally, it means being adaptable and resilient, altering strategies as situations evolve and being open to novel ideas, avoiding rigidity and fostering adaptability. 3. Mutual Welfare and Benefit (Jita Kyoei): Success in Judo and in organizations is interconnected. One's achievements often depend on the prosperity of others. Mutual welfare underscores collaboration, win-win solutions, and fostering trust and goodwill in alliances. Assisting colleagues benefits the collective, furthering individual success. 4. Mental and Moral Aspects: Mental Resilience: Judo requires mental endurance. Similarly, leaders need resilience to navigate organizational setbacks. It aids in making strategic decisions under pressure and recovering stronger from challenges. Moral Integrity: Judo cultivates moral behavior, emphasizing respect, discipline and humility. Within organizational politics, integrity ensures trustworthiness. The judicious use of influence while retaining values ensures enduring success. Applying Judo's principles in professional contexts encourages strategic acumen, emotional intelligence and adherence to core values. By embracing the philosophies of maximum efficiency, flexibility, mutual benefit, and mental and moral resilience, one can master organizational politics, transforming conflicts into opportunities for collective growth.
Copyright owner
IMD Copyright
Available Languages
English
Retaining entrepreneurial spirit during hypergrowth at sportswear brand On (A)
Summary
On Wednesday 15 September 2021, about 100 On team members were going to jog to the NYSE to mark the running shoe brand's first day as a publicly traded company. One of few unicorns in Switzerland, On had been founded in January 2010 by running enthusiasts David Allemann and Caspar Coppetti, together with former professional athlete Olivier Bernhard. It was one of the fastest-growing global sports brands. In a decade, On had grown from a small start-up, operating out of an old church, to a multinational company employing almost 900 people. It was known across the world, not least thanks to tennis star Roger Federer, who had joined On as an investor and partner. Culture, or "spirit" as it was called at On, was particularly important for the running shoe company. The origin story of On defined the company and was still deeply reflected in present and future aspirations. It had all started with a crazy idea to glue pieces of garden hose to an old sneaker. The highly entrepreneurial mindset – referred to as "explorer spirit" – permeated the company's DNA and was one of the key reasons for its success. The five partners believed it was crucial to maintain that spirit as the organization grew. By going public, the company aimed to secure funding for further global expansion. The funds raised would give the company the resources it needed to fulfil its dreams and help it reach the size required to play in the big league and compete with global players like Nike or Asics. The IPO was a major milestone for On but being a public company would also come with new obligations and increased expectations, from both the public and shareholders. The five partners were aware of the potential risk this represented to the company's culture.
Copyright owner
IMD Copyright
Industry
Consumer Goods, Sportswear
Available Languages
English
Case Study
Entrepreneurship
Human Resources
Leadership
Organizational Behavior
Retaining entrepreneurial spirit during hypergrowth at sportswear brand On (B)
When one of On's co-founders stepped into the elevator at the brand new On Labs headquarters in Zurich, a fellow co-worker asked whether it was als...
Vestas CEO: "Failure is always an option"
Summary
Henrik Andersen discusses with IMD President Jean-François Manzoni the challenges of navigating supply chain disruptions and soaring raw material c...
How to tame the bully on executive boards
Summary
From animal instincts to boardroom battles, the effects of bullying at the top of a company can damage profitability. Here's how to make sure that ...
How can CEOs harness the power of generative AI?
Summary
Generative AI can transform marketing, customer service, and other business areas, but CEOs must ensure they use it effectively, says IMD's Goutam ...
Test hypotheses, don't make assumptions when taking a new role
Summary
Leadership transitions are pivotal moments in any leader's career. As you step into a new role, the initial days are a valuable opportunity to lay ...
10 ways to prove you're a strategic thinker
Summary
To get ahead in the business world, it's not enough to think strategically. You also have to effectively communicate those ideas. There are several...