Transformational Leader
Unlock your full leadership potential
Transformational Leader
Unlock your full leadership potential
Location liVe virtual, with optional face-to-face module
Length 3 modules of 5-10 weeks each
Fee CHF 15,900
Next program starts 11 April 2024
Who are you capable of being?
You want to forge ahead and make things happen, but transformational leaders know that pausing, reflecting, and sense-making are just as important as acting.
IMD's Transformational Leader is a personalized transformation journey that teaches you how to unlock the full potential of your leadership in three stages: mindful, resilient, and adaptive. The program takes place over several months, which allows you to process, reflect on, and integrate your learning between sessions. Your coach accompanies you every step of the way.
The program takes a three-dimensional approach to transformation. You explore your personal narrative to understand your behaviors and reshape your future. You look at how you show up as a leader in various contexts, and discover levers and tools for self-transformation. You also understand the impact of your leadership context, and how you can exercise your agency and choices with confidence.
Will you be ready to go further on your inner change journey?
After the core program, you can delve much deeper into your biggest challenges during an optional fourth stage in the Graubünden region of Switzerland. During this face-to-face next-step experience, you will build on your learnings with participants from different sessions of Transformational Leader. This collective and personal deep dive takes place at the beginning of each calendar year.
Mindful – Lead in the moment
Free your leadership from limitations created by behavioral patterns, scripts, and routines, and become deeply self-aware of how you show up in each moment.
Resilient – Lead in complex contexts
Exercise your leadership in the complex contexts shaped by your teams and your organization.
Adaptive – Transform your future
Build your adaptability and flexibility to successfully drive organizational change.
Evolutive – Challenge yourself in new ways
Understand how far you have come on your transformation journey and tackle your biggest challenges through experiential and reflective exercises in an optional face-to-face stage.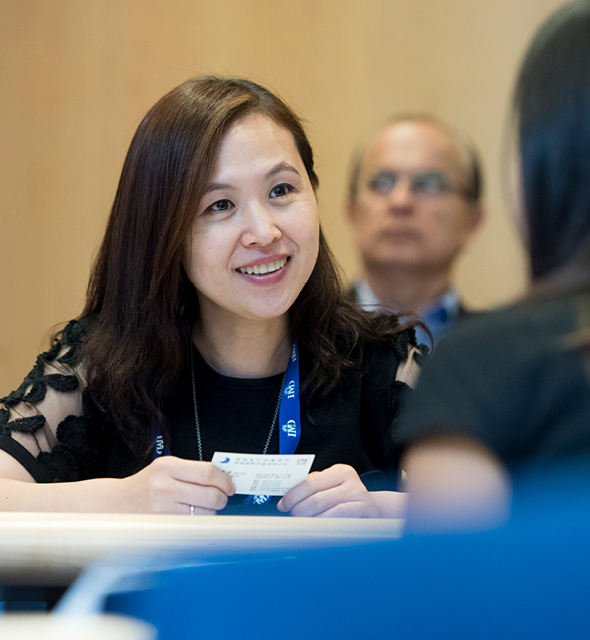 You and your class
Are you an experienced manager leading in increasingly complex contexts? Are you looking for opportunities for personal growth to unlock your full leadership potential and successfully lead change?
Then join other executives from different industries, cultures, and nationalities for an enriching learning experience that will help you transform yourself and your future. This diverse group of global peers will become a trusted resource and network as you go through your leadership journey and advance your career.
2021-2022 class profile (average data)
In Transformational Leader, I found an executive leadership program that helped me explore and unlock the different dimensions of my leadership potential.
Next start & fee
Length: 3 modules of 5-10 weeks each, including reflection and coaching between modules, with an average of 6 hours training / study per week.
3 modules of 5-10 weeks each
3 modules of 5-10 weeks each

What would you like to learn?