Video
The future of business and COVID-19
This video vignette features IMD Professor of Strategy and International Management Omar Toulan and Scott McDonald, President and CEO of Oliver Wyman, in conversation.
21 min.
May 2020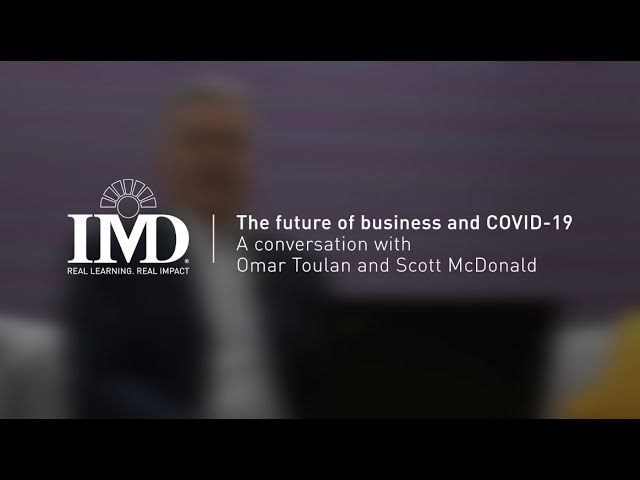 The past few months have seen a disruption to the global economy unprecedented in modern history. With this experience has come an extreme level of volatility and uncertainty about the economy and what is in store.
This topic is explored in detail with IMD Professor of Strategy and International Management Omar Toulan and Scott McDonald, President and CEO of Oliver Wyman, as they discuss the effects of COVID-19 on the world economy in late April 2020.
McDonald firmly believes that the long-term effects of COVID-19 are not presently known, and that the impact we're seeing now is much more significant than anything the world has seen for a very long time.
"If you look at the current predictions around GDP or unemployment…they're severe," says McDonald. "If you try and cast your mind back over a slightly broader period of history than just a decade or so, it feels much more like 1930 than 2008."
As for the tools needed to confront the crisis, they may be more analogous to the types of tools that were needed during the Great Depression rather than those used to overcome the financial crisis of 2008. With stimuli in place that dwarf those of 2008, McDonald wants to be sure those resources go to the right places.
Professor Toulan and McDonald then delve into the role of today's economic protectionism and the impact it has on the potential for global cooperation in addressing COVID-19 and other such global challenges.
"It's probably not the most desired outcome but unfortunately, probably the most realistic one," admits Professor Toulan with regards to the strengthening of economic nationalism.
As for COVID-19's effect on specific industries, McDonald discusses the various scenarios that Oliver Wyman – one of the world's leading management consulting firms – has imagined for clients. He insists that these fall into three basic categories: industries like transportation, airlines, and the hospitality sector that have been severely impacted; industries like manufacturing, energy, and business services which may be able to reach a middle ground by employing a more flexible business model; and lastly, industries which leverage online or technology services that could actually thrive in the new normal.
The conversation ends on a lively point made by McDonald on the potential silver-lining of the crisis. He posits that it is the time rewrite the rules and improve the "way things work" with regards to business and society.
"It's probably obvious to you all but I really am a capitalist and I really am a globalist," says McDonald, "In the face of the pain that's coming, I think on the human and economic side that may seem like a small opportunity but I think it's a long-term, important one."