Video
Putting the customer at the heart of your business requires more than just good intentions
Integrate a customer-centric mindset, digital enablers and leadership capabilities to serve your customers, advise IMD Professors Katharina Lange, Frederic Dalsace and Didier Bonnet
45 min.
January 2021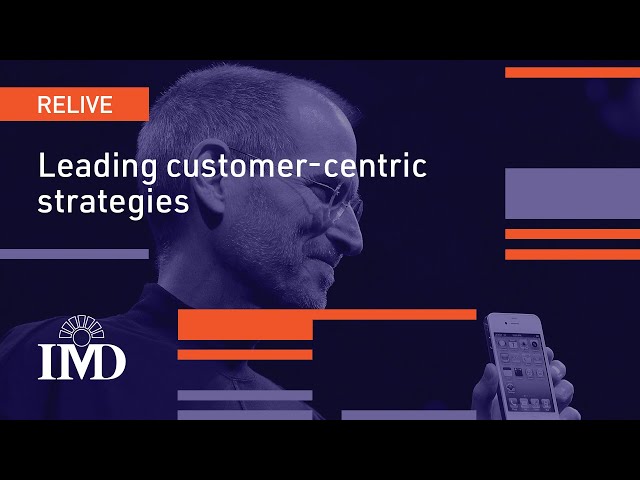 There's a great paradox to customer centricity: most companies cite customer satisfaction as their great motivation. And yet, many customers are feeling unsatisfied with the results and find them "non-intuitive".
So, why aren't customer-centric ambitions translating into great customer experiences? Partly because many companies underestimate the complexity of getting several things right when tackling customer-centricity.
A desire to help leaders improve their customer-centricity skills motivated the webinar "Leading customer-centric strategies", given by IMD Professors Katharina Lange, Frederic Dalsace and Didier Bonnet.
They proposed seeing value in three dimensions, going on to explain how success would also depend on two important enablers – digital transformation and leadership – along each dimension.
Chop, chop: the scissor effect and how to prevent it now
Companies naturally start out with customers high on their agenda, but over time and in parallel with the company's growth, customer-centricity tends to fade, explained Dalsace. Instead, other areas become center-stage: hiring experts and putting new processes in place among them.
Dalsace referred to this as the scissor effect, which he described as "something you don't want. But if you don't move in three ways, you'll have it."
"You're not customer-centric unless you're looking at three areas: value creation, value delivery and value capture," he explained.
According to Dalsace, companies need to change their mentality when it comes to delivering value, throwing away slogans like: "We make great [insert product/service here] and this is the price".
They need to "go from product land to customer benefits", he said. This means caring less about the features of the product per se and more about how the customer feels when they buy it, or indeed when they hire the company do the job.
Next, value creation needs to evolve into value-cocreation. Ask: how you are organizing your firm to make sure you are creating something with your customers, getting them and third parties on board for delivery?
"It's a paradox," added Bonnet, "because you're asking customers to do part of the work for you and they feel great about it." His anecdote on one Indian airline puts this in context: wanting to be the airline renowned for taking off and landing on time, they asked customers to clear up after themselves before they left the plane, supplying them with garbage bags.
It worked. Why? Because the people before did it, explained Didier. The company achieved a "we are all in this together, to take off and land on time" modus operandi, he said.
Finally, value capturing needs to become driven by a "You win they win, you lose they lose" attitude, said Dalsace. And that will probably mean taking calculated risks.
Leadership is a key enabler, with empathy playing a big part
None of this will stick without the right leadership, Lange emphasized.
"You need to role model empathy at any leadership level and encourage others to follow you," she said, emphasizing the need for corresponding leadership behaviors that foster customer-centricity in organizations.
Humility is the second quality required. Humble leaders are more effective. They learn from their teams and customers and inspire a growth mindset. "A good leader understands that it's not about how much you know, but how much you want to learn," she explained.
And lastly, customer-centric leaders need to be audacious. They take risks and encourage others to try something bold and new.
Answering a participant question on what to do if a leader seems to lack empathy, she said: "You can give empathetic feedback to your team leader. Ask her or him put her- or himself in your shoes and encourage them to observe what is going on. But also, you can do it easily yourself. Pick up the clues, such as body language, to put yourself in others' shoes. Anticipating others' moves is a major leadership skill."
Emotions still exist, so it can't all be about the data
When it comes to digital, leaders mustn't lose sight of the importance of behavior and emotions. As algorithms take over in terms of recommending solutions, staff on the front line should be spending not less but even more time with the customer, Bonnet said.
Dalsace added to this advice with a reminder that "customers don't know the how". However, that doesn't mean leaders don't have to listen to them.
"It comes back to when Ford said, if I'd listened to my customers all I'd have would be quicker horses. But let's look at it like this: what's behind the need for quicker horses? Customers wanting to go quicker. If you ask how customers feel, if you add this value to customer research then you get to the bottom of the question: What is the true job to be done?"
Steve Jobs, too, seemed to lack humility and empathy some might argue. But don't forget he was a great observer on how people used tools. And that's a great soft skill to have, as Bonnet concluded.
If you enjoyed this webinar and are interested in learning more about how to align the dimensions of customer-centricity for growth, you can sign up to our upcoming program Leading Customer-Centric Strategies.
Looking for something specific?
IMD's faculty and research teams publish articles, case studies, books and reports on a wide range of topics
Get more women into positions of leadership and innovation to achieve climate goals
Summary
The transition to a greener future needs to happen fast. What does that have to do with gender diversity?
How to lead in the new normal
Summary
In an age where simultaneous crises are the norm, leadership success is not about having the core capabilities, but about creating the right operat...
The new CEO's guide to crisis management
Summary
As baby-boomer CEOs retire, a new wave of leaders is taking over. These new CEOs are full of fresh ideas and perspectives. However, many inevitably...
Retaining entrepreneurial spirit during hypergrowth at sportswear brand On (B)
By
Alyson Meister
and
Valerie Keller-Birrer
Case reference:
IMD-7-2482
©2023
Summary
When one of On's co-founders stepped into the elevator at the brand new On Labs headquarters in Zurich, a fellow co-worker asked whether it was als...
Copyright owner
IMD Copyright
Industry
Consumer Goods, Sportswear
Available Languages
English
Navigating organizational change: A bitesize framework for leaders 
Summary
Keep the "change hamburger" in mind as you steer through your transformation journey.
Decisions about the future of AI shouldn't be made by "dark personalities"
Summary
Traits such as overconfidence and narcissism, which may lead tech leaders to make bold decisions and take risks in the pursuit of growth, are dange...
Big shoes to fill: How to succeed a brilliant leader
Summary
Executives winning promotion must navigate their transition with a balance of humility, respect for legacy, and a vision for the future.
Use GenAI to uncover new insights into your competitors
Summary
Companies have a growing problem of information overload regarding markets and competitors, which often prevents the C-suite from making the best d...
Fostering psychological safety in teams
Summary
This note highlights the pivotal role of psychological safety in fostering a culture of flexibility and innovation within organizations, especially...
Copyright owner
IMD Copyright
Available Languages
English
Revier Brand Group, LLC: Will its "sustainability and consistency" brand positioning pay off?
By
Goutam Challagalla
Philip Charles Zerrillo
and
Raghu Batta
Case reference:
IMD-7-2170
©2023
Summary
The CEO of Revier Cattle Company, Tom Revier, had been an innovator in sustainable farming and humane livestock practices for over two decades. He ...
Copyright owner
IMD Copyright
Organization
Revier Cattle Company
Industry
Food Production, Ranching
Available Languages
English