Video
Leading in turbulent times webinar series: Sustainability
Seeing the bigger picture of how society will tackle sustainability after the COVID-19 crisis
55 min.
April 2020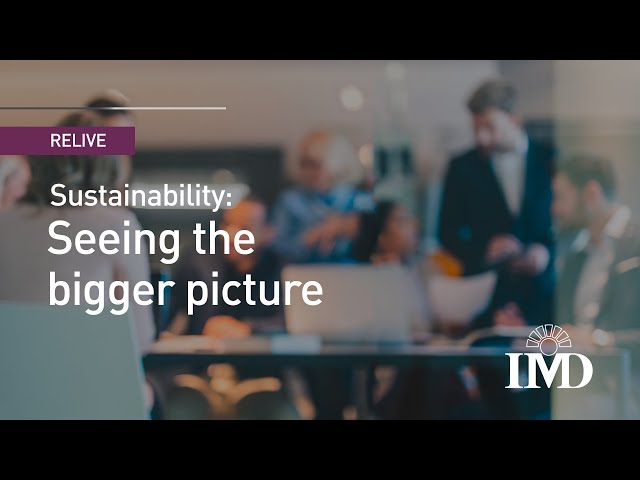 With the current situation constantly evolving, COVID-19's human, financial and economic consequences are anyone's guess. But to what extent can the crisis inform us on how to face the greater issue of sustainability?
By already planning for the next stage of the crisis, particularly the potential impact that the virus will have on the issue of sustainability, your organization can minimize negative impact.
This webinar is led by Frédéric Dalsace, Professor of Marketing and Strategy, IMD, who has been working on CSR issues for more than a decade. He delves deep into the issue of whether the coronavirus is likely to delay or to accelerate the way our society is tackling sustainability.
After studying the Great Recession of 2007-08 in detail, Professor Dalsace shares his worries about the aftereffects of the coronavirus crisis. "Is it going to be different this time? I had great hopes about the system becoming more equitable in 2008, but everything soon went back to normal and no progress was made. I was very disappointed."
But bringing a positive spin to the current opportunity, Dalsace says we as individuals, and as a group, can put our priorities in place now so that sustainability becomes the end goal once again.
The scenario that will unfold may well depend on the collective narrative that is being built as we speak. It will be country specific and will be a function of the extent that we think the COVID-19 crisis is a one of a kind event vs one of many. It will also depend on our evaluation of the response by national institutions.
"YOU will drive this narrative. YOU will drive society. As soon as the negative rebound is over, YOU can demand change," he insists.
This leads to the ultimate question: What can we learn from the way COVID-19 is being fought to be better able to address overall sustainability challenges? Wrapping up the session, Dalsace answers participants' questions and investigates the effects on the luxury sector boom during the initial rebound, the reengineering of supply chains to ensure their survival and also explores the buyer-seller relationship in the short and medium term.
Looking for something specific?
IMD's faculty and research teams publish articles, case studies, books and reports on a wide range of topics
Digital sustainability for a better future
Summary
Digital technologies, when used in the right way, can benefit organizational performance, improve people's lives, and protect the planet.
Revier Brand Group, LLC: Will its "sustainability and consistency" brand positioning pay off?
By
Goutam Challagalla
Philip Charles Zerrillo
and
Raghu Batta
Case reference:
IMD-7-2170
©2023
Summary
The CEO of Revier Cattle Company, Tom Revier, had been an innovator in sustainable farming and humane livestock practices for over two decades. He and his partner Paul Hillen are considering whether they should launch a branded differentiated product in the market, and if so, how they should position this offering. The product has definite advantages in taste, texture and consistency due to the consistent farming techniques. Although taste may be important for some segments of the market, there may be an opportunity to showcase the sustainability characteristics of the company's livestock care and handling and its humane and environmentally friendly aspects. The case delves into the end-to-end value chain to understand the opportunities and challenges in taking a brand to market.
Copyright owner
IMD Copyright
Organization
Revier Cattle Company
Industry
Food Production, Ranching
Available Languages
English
Integrating sustainability and strategy: Three narratives for success 
Summary
The future lies in creating positive value equations for customers, showcasing how sustainability enhances traditional product benefits.
Time to pay up for deplenting our natural resources ... so it won't cost us the earth
Summary
As temperatures hit 53C in Furnace Creek in California's Death Valley, it's clear we need to act – and fast. Edoardo Chiarotti argues that companie...
How much money can our corporate giants spend fixing the world?
Summary
With society facing a number of critical challenges, such as the transition to a low-carbon economy, digital disruption, and aging populations, dem...
The chickens are coming home to roost: Companies admit their climate promises were unrealistic
Summary
The vast majority of plans are not worth the paper they are written on, recent research shows. A comprehensive path toward net zero should address ...
The right thing: Triple bottom line has renewed purpose
Summary
Focusing on a company's ecological and social impact as well as its economic performance has yielded mixed results. However, there is increasing ev...
Creating a sustainability roadmap at Sika: The net zero pledge
Summary
The case describes how Patricia Heidtman, chief innovation and sustainability officer and member of the executive board at Sika, creates a roadmap for sustainability, including a net zero pledge. Sika deliberately put Patricia – also a trained chemist – in charge, unlike many companies that assign the sustainability agenda to the CFO, the head of PR or legal, or even a designated CSO. Sika is a specialty chemicals company with a leading position in developing and producing systems and products for bonding, sealing and damping, as well as reinforcement and protection in the construction and automotive industries. The company had over 27,500 employees and sales of CHF 10.49 billion in 2022. In her role, Patricia faces four main challenges. First, the regulatory environment for a global, publicly listed company like Sika changes fast and significantly, as the measurement standards are still developing. Second, scope 1 and 2 emissions count for only about 2% at Sika; 98% are related to scope 3, which the company does not control directly. Third, Sika has over 100 subsidiaries worldwide, and each market and customer segment is very different, requiring a bottom-up rather than a top-down approach. Finally, Sika's growth trajectory estimates a 300% revenue increase by 2050. Given this growth rate, reducing emissions by 75% would not decrease any emissions in nominal terms. An important step in implementing this commitment across the organization is a series of regional net zero workshops, with the aim of bringing everyone to the same level of understanding, since net zero affects every part of the business in different ways. At the same time, sharing the learnings and obstacles created valuable input for the regional and global pathway to net zero. This input will serve as a foundation for Sika's 2028 strategy. Through peer discussions instead of top-down mandates, Patricia wanted to create strong alignment between departments and regions on key decarbonization levers.
Copyright owner
IMD Copyright
Industry
Manufacturing, Chemicals
Available Languages
English
ZENITH: The opportunities and challenges of eco-conception (Mini case)
Summary
The collaboration between ZENITH and Nona Source – the LVMH group's resale platform for deadstock – resulted in a 2021 product launch that saw ZENITH unveil a series of changeable textile straps as part of its women's watch collection named DEFY Midnight. It reflected a choice the ZENITH brand made to step outside its traditional territory and endorse eco-conception and innovative collaborations. The challenge for the company was to ensure that the experimentation would not compromise in any way the underlying perception of luxury.
Copyright owner
IMD Copyright
Industry
Consumer Goods, Luxury Goods and Jewelry;Consumer Goods, Clocks and Watches;Manufacturing
Available Languages
English
Breaking boundaries without "breaking bad": Co-creation for extreme innovation
Summary
Does the winner really take it all? By combining expertise from distinct domains, organizations can unlock groundbreaking solutions that address cl...