Length 2 days
Fee CHF 3,500
When 7-8 November 2024
Where Lausanne
What is IMD's Reinventing Luxury Lab?
Reinventing Luxury Lab is an experiment-based strategy program that enables you, an executive or professional from the luxury industry, to prototype and field-proof the key elements you need to make your brand resilient and enduring. The program is designed to help you build on your luxury brand management capabilities.
Each Reinventing Luxury Lab explores a different theme in cutting-edge luxury management. Combining the latest research, a review of best practices, and new business cases, the program also provides a stimulating environment for peer-to-peer conversations about ways to gain and maintain relevance while keeping your brand promise.
Themes of previous editions include:
What's next for growth? Implications for luxury management
Future-proofing luxury in volatile times
Purposeful luxury
Leading through the crisis with agility
Your participation in Reinventing Luxury Lab gives you life-long access to the IMD Luxury 2050 Forum, a vibrant community of professionals that offers opportunities for learning and development, networking, peer-to-peer exchanges, and mentoring.
The theme of the 2024 session of Reinventing Luxury Lab will be announced soon.
Agility & resilience
Build agility and resilience at the core of your strategy, operations, and organization.
Effective decision-making
Learn to make tough strategic choices even when the context is uncertain.
Hands-on experience
Prototype and field-proof the key elements of your brand transformation and renewal.
Real-world learning
Get exposed to real-life commitment strategies and next practices developed and implemented by industry-leading brands.
Inspirational faculty & industry guest speakers
Networking opportunities with senior peers
A dedicated IMD alumni community from luxury sector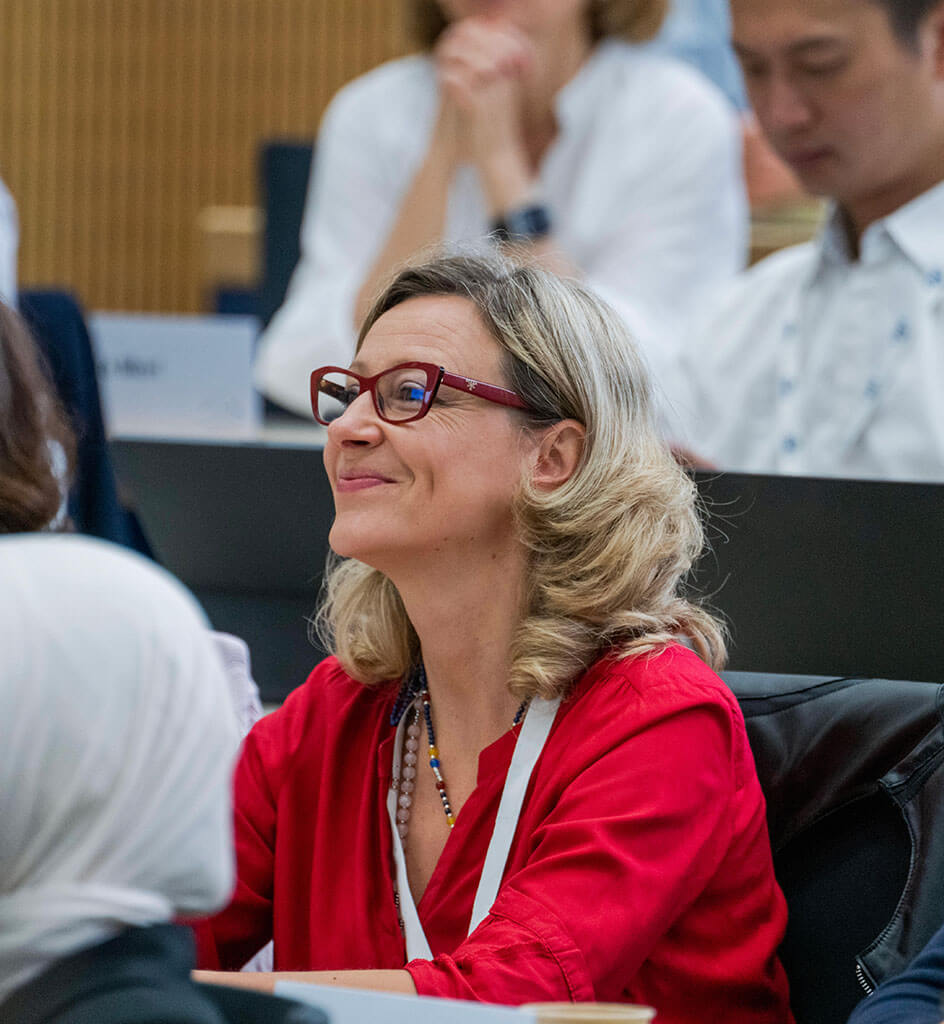 You and your peers
The two-day workshop is designed for executives and professionals in luxury management across various luxury industries including Fashion, Jewellery, Watchmaking, Automotive, Accessories, Home and Interior Design, Cosmetics, Private Banking and Hospitality.
The theme of the 2023 Reinventing Luxury Lab will provide insights to professionals across functions, including marketers, strategists, supply chain experts, digital transformation executives, retail executives, sustainability experts and senior executives.
The Reinventing Luxury Lab is an ideal networking platform, during the workshop and after – and not least through the dedicated community of IMD alumni across luxury sectors, the IMD Luxury 2050 Forum.
2021-2022 class profile (average data)
Discover the impact of the Reinventing Luxury Lab

Executives from across the luxury sector join Reinventing Luxury Lab to answer the questions posed by today's challenges and discover practical solutions to reinvent their approaches. Hear what some participants say.
Keynote speakers
A core team of professionals and experts have joined Prof. Stéphane J.G. Girod for our last event.
Stéphane JG Girod's insights
One step closer to joining IMD alumni network
Successful completion of this program takes you one step closer to joining IMD's powerful alumni network.
250+ events per year
Communities
50+ clubs worldwide
Resources

What would you like to learn?