IMD MBA core themes
Develop reflective and responsible leadership and sustainability skills during your MBA journey to positively impact your program experience and future career.
IMD MBA core themes
Develop reflective and responsible leadership and sustainability skills during your MBA journey to positively impact your program experience and future career.
Critical themes covered during your MBA
During your MBA, you will master 3 critical themes. First, the leadership stream which is at the core of the program's DNA, a crucial step towards becoming a good leader and effecting organizational change. Leadership Programs Develop key leadership capabilities, accelerate your impact as a leader, and maximize your career impact. Secondly, IMD has woven the sustainability stream into the program. This empowers you with the essential knowledge and skills to bring sustainability to your organization and career. Thirdly, the career stream supports you in defining and achieving your career goals.
The MBA is equivalent to 90 ECTS.
Leadership Stream
Professor Jennifer Jordan
A year-long, transformational journey developing your global leadership skills and entrepreneurial mindset, preparing you for a fast-paced, evolving world.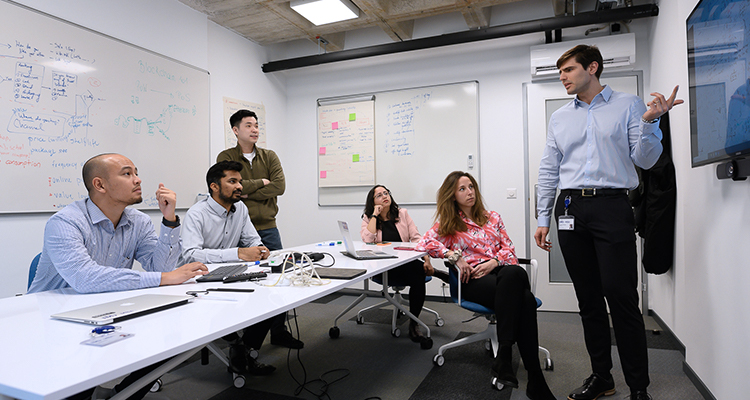 Leadership Lab
Team building
A 2-day, off-campus team building leadership lab with professional leadership coaches improves your understanding of how group dynamics impact performance.
Personal coaching
Self-awareness
Individual sessions with your personally selected psychoanalyst will help you to develop your self-awareness and better understand your leadership style.
The Eight Pillars of High Performance Leadership
Professor George Kohlrieser
A 2-day session on leading self and others. How do cutting edge leaders take appropriate risks, inspire trust, drive change and create opportunities to foster success?
Negotiations
Professor Martin Fellenz
The session spans over two and a half days and focuses on hands-on learning to showcase the key components of successful negotiation. Participants get to explore various tactics in a safe and low-risk environment.
Sustainability journey
Throughout the year, you will build on critical sustainability skills and debates that all leaders must possess for the future. This knowledge will ensure you develop critical thinking and enhance your ability to make difficult and informed decisions. Download the IMD MBA Program Sustainability Skills and Sustainability Skills & Core Courses Matrix.
Mountain experience weekend
The whole class spends 2.5 days in the Swiss alps at the start of the program, for an introduction of the sustainability agenda and key concepts and experiential activities.
Experiential labs
Discover our 2 labs. The science behind sustainability is a two-day lab in March providing key scientific concepts related to sustainability. The COP28 simulation is a two-day simulation in June of the next COP28 meeting.
Right vs. Right debates
In keeping with the theme of Reflective and Responsible Leadership, the purpose of the Right vs. Right 4 half-day debates are to help you deal with ethical dilemmas and make difficult moral decisions as a leader.
Research and target
Review & gear up
Work with the Career Development team and partner with subject matter experts to define your career vision and job search strategy
Prepare for global opportunities
Sharpen & validate
Through a series of workshops and individual career advice, prepare yourself to network and interview with recruiters.
Dedicated career time
Career development center
Take advantage of networking opportunities and interview time to secure your future role through on and off-campus recruiting events with diverse, global companies.