IMD business school for management and leadership courses
Take the fast lane to business mastery – with IMD Sprint 
Stay relevant and supercharge your career with focused, time-effective learning.
Take the fast lane to business mastery – with IMD Sprint 
Stay relevant and supercharge your career with focused, time-effective learning.
Proven methodology
15,000+ participants to date
---
What is IMD Sprint?
IMD Sprint is a fast-paced online learning program delivered in short, highly engaging sessions. Each Sprint includes faculty-led, live virtual sessions (approx. 4 x 1h per week) as well as high quality pre-recorded multimedia content you can watch at your own pace. The total time commitment is approx 1-2 hours per day over 2 weeks. You receive IMD certification on successful completion.
How a Sprint works
After registration, you'll gain access to IMD online learning portal to set up your profile and complete any necessary pre-work. On the program start date, you'll be able to access the links to the live virtual sessions, review pre-recorded materials, engage with fellow participants, and work on your project (if applicable).
Live virtual sessions
Interact with faculty and guest speakers
Pre-recorded multimedia content
Engage with high-quality content, available to watch at your own pace
Peer learning
Gain insights from your cohort
Project
Turn learning into your own action plan
Real-time impact
The combination of live virtual sessions and pre-recorded content help fast-track the acquisition of key skills to create real-time and sustainable impact.
90%
of participants experienced significant personal impact after attending a Sprint.
97%
of participants gained practical tools and ideas.
96%
of participants enhanced their professional network.
93%
of participants feel more self-confident after attending a Sprint.
IMD Sprint has been shortlisted for QS Reimagine Education Awards
IMD Sprint has been selected as a finalist for the QS Reimagine Education Awards, in the E-Learning category.
This year, the Reimagine Education Awards – the 'Oscars' of Education – marks its tenth anniversary of recognizing innovative approaches that improve student learning outcomes and career prospects.
IMD's entry stood out among 1.200+ submissions across 17 awards. This prestigious achievement reflects our passion and dedication to push the boundaries of education and our unwavering commitment to excellence.
Who will benefit?
Ambitious full-time professionals
For experienced executives who need accelerated results without taking time out from work.
Entrepreneurs, small business owners
For leaders and owners who want a fresh strategic lens to fast-forward their business.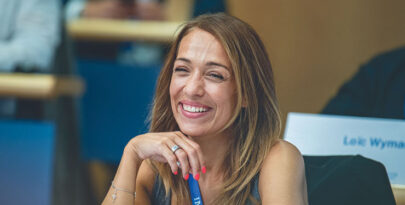 Self-starters
For hungry learners who are ready to think bigger and bolder and invest their time with the best.
Team benefits – upskill at scale
Accelerate knowledge and capabilities needed by your teams to transform, compete and grow. Sprint makes IMD accessible to your whole organization.
Built for scale
Training solutions from one employee to 20,000.
Flexible design
Turnkey and custom options to connect with your different audiences.
Measurable impact
Demonstrate impact and ROI with custom reports. Optimize for your outcomes.
Easy roll out
IMD manages the complexity for your organization.
What participants say about Sprint
Joanna Aleksandrowicz
Principal Consultant/Senior Manager | GFT Group | Poland
An inspirational booster
Sprint is an inspirational booster. It's a top-class, hands-on experience with engaging workshops, useful case discussions and a set of "ready-to-use" digital transformation tools.
Fernanda Giuntini
Vice President | Americana Foods | Dubai, UAE
Simple and powerful
Sprint is so simple and so powerful!!! It gets you engaged and excited to practice the learnings! It's an exciting journey and far above my expectations!
Adrian Hunn
Chief Executive Officer Zeramex/Dentalpoint | Switzerland
Exceeded my expectations
The online learning experience is outstanding. The mix between live sessions, online learning, and assessments are well balanced. It exceeded my expectations by far.